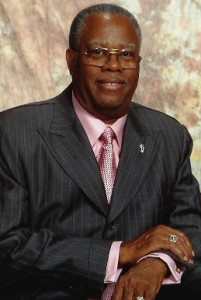 Bishop Purdie Elliott – 
Bishop Purdie Elliott II, a native of Harnett County, is the founder of Anderson Creek Christian Center and the Presiding Prelate of Spirit of Excellence Ministries. He served as Senior Pastor of Anderson Creek Christian Center for 35 years where he was called to succeed the late Rev. E.C. Matthews in 1979. Bishop Elliott holds the record as Anderson Creek's   longest serving leader. He is also the founder of S.C.I.M. (Spiritual Covering for Independent Ministries).
Before accepting the call and appointment to Pastor the church (formally known as Anderson Creek Pentecostal Holiness Church), Bishop Elliott served as Chairman of the Deacon's Ministry. He served faithfully in this capacity for over eighteen years before being called into the ministry in 1979. Shortly after Bishop Elliott preached his first sermon, his Pastor, Rev. Matthews, became terminally ill. Because of the love and concern Pastor Matthews had for his church, he wanted the ministry to go forth and flourish even in his absence. When he felt his health failing, he asked Bishop Elliott to Pastor the church. Pastor     Matthews had worked closely with Bishop Elliott throughout his tenure and he recognized that he was truly a leader with vision. He knew that with the right support and training, Bishop Elliott would do exploits in the Kingdom of God and would be the one to take Anderson Creek to the place it is today—One church with multiple locations, full-time staff, beautiful new edifice, daycare center & Family Life Center.
Throughout his tenure, Bishop Elliott's exemplary teachings and spiritual guidance have inspired numerous servant leaders to accept God's calling to the ministry. Demonstrating his commitment to meeting and supporting the ever-changing needs and growth of the congregants, he established more than 25 ministries. One highly notable area of ministry that Bishop Elliott and his wife, Co-Pastor Ida Elliott, hold high regards is the Anderson Creek Church Child Development Center where he serves as CEO. He also serves as     Visionary and Chief Executive Officer of the Purdie & Ida Elliott Family Life Center.
Bishop Elliott is known by everyone in his community as a Pastor, leader, mentor, visionary and friend. His gifts are exceptional and are exemplified through the many awards he has received down through the years. Some awards include the Living Legion Award for Harnett County, The Grand Marshall Award and the Excellence Award for his dedication and service to Harnett and Cumberland Counties. Bishop Elliott is truly recognized as a stalwart supporter of his community. He is a member of the WIDU Pastor's Coalition where Pastors reach out to local communities and surrounding areas to bring about change for the betterment of the community.
Bishop Elliott is married to Elder Ida Bass Elliott and they have two children, Purdie III (Mia) who serves in the ministry and his successor, Pastor Angela Elliott Blue.
Elder Ida Elliott – 
Elder Ida Elliott is the only daughter born to the late Jerry and Ora Bass. She is a native of   Granville County, but was reared in Harnett County where she graduated from Shawtown High School in 1959. Elder Elliott was raised on a farm which is the place she learned to work diligently with her hands. She was not afraid of difficult tasks and always loved a challenge. Her diligence and hard work were exemplified through the many awards she received from employers through the years for her Excellency of   Service. Because of her assiduous fast hands, she exceeded in every position she ever held.
Elder Elliott is known for her candid teaching and domestic lifestyle. She enjoys educating and counseling women of all ages on how to be Mothers and homemakers. She patterns her life by Proverbs 31 and trains ladies as often as she can in that area. Many marriages have been revived because of her uncompromised teaching. Elder Elliott also takes pleasure in canning, gardening and cooking home-cooked meals to include homemade biscuits.
Elder Elliott is a member of Anderson Creek Christian Center where she has served for over 54 years. She worked in many capacities over the years to include choir leader, psalmist and Sunday School teacher. She joined the Mother's Ministry at a very young age and continues to be an active member today.  Heeding to the call of God, Elder Elliott preached her first sermon in 1977 under the leadership of the late Rev. E.C. Matthews.  She served as the Vice-National and National Mother of the United Pentecostal Holiness Churches of America for many years.  Numerous ministries have been established through her assistance, prayers and support.
Elder Elliott has been gifted with the ministry of prayer.  She prays continually that men and women will be saved and delivered. She understands that through salvation and
deliverance, healing and prosperity will take place.  She is strongly committed to the cause of Christ and convicted to the call of leading souls to Christ.  In her latter days, she desires to stay active winning souls for Christ. Elder Elliott currently serves as the Co-Founder of Anderson Creek Christian Center, Spirit of Excellence Ministries and S.C.I.M.
Mother Elliott is married to Bishop Purdie Elliott II. They have two wonderful children; Purdie III (Mia) and Pastor Angela Blue, six grandchildren and nine great-grandchildren.