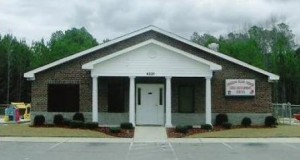 Anderson Creek Church Child Development Center (ACCCDC)
4 STAR Facility
8227 Elliott Bridge Road
Spring Lake, NC 28390
910-497-2286 (O)
910-496-1316 (F)
Anderson Creek Church Child Development Center is a 4 STAR childcare center located between Fayetteville and Spring Lake, North Carolina. We have been in operation for over 16 years serving the needs of our community.
Our Philosophy
Our Philosophy is to provide a Christian atmosphere conducive to learning that will enhance the health, safety and well-being of children.
Our Mission
Our Mission is to nurture the "whole child" in areas of physical, emotional, social and spiritual development. This will be achieved through providing a variety of activities that are developmentally appropriate. Through Christian principles and teacher-assisted and directed activities, children are encouraged to be independent thinkers and life-long learners.
We are fully licensed, insured and certified so give us a call today.